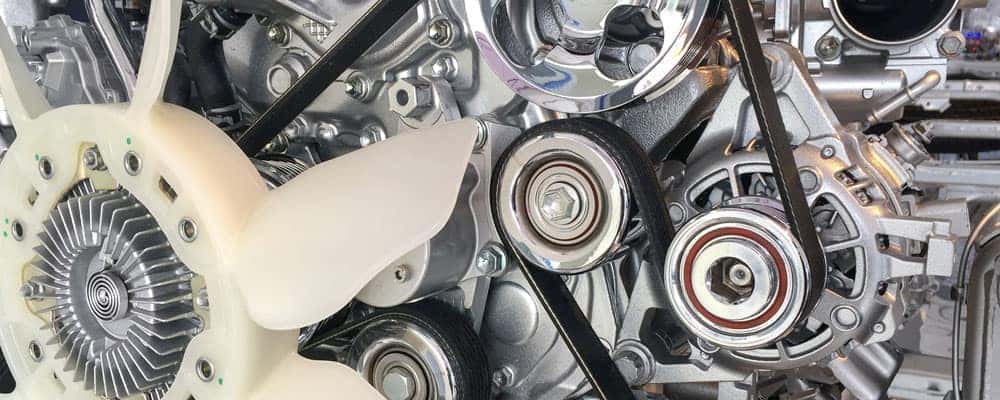 What Is a Timing Belt?
If you're asking "what is a timing belt?" for your routine auto maintenance, South Houston Nissan has the answer. The timing belt in your vehicle times the opening and closing of the valves in your engine. It's a critical component that keeps your Pearland car operating smoothly and if it breaks, it could cause serious trouble if you drive with a broken timing belt. Let South Houston Nissan give you all the timing belt tips we know and point you to our service page to learn more about how we can help repair your car.
How Much Is a Timing Belt?
If your timing belt is busted, that means your valves won't open and close on time. They'll run into the pistons and the car will need pricey repairs, sometimes over $2,000. If no damage has occurred, you can expect to pay between $500 and $1,000 for a new timing belt with parts and labor costs factored in. Most manufacturers think you should replace your Pasadena timing belt every 60,000 to 100,000 miles.
Is It Time for a New Timing Belt?
No matter if your car in Deer Park uses a rubber belt or a timing chain, it's simple to tell if you've got a problem with your timing belt. If you notice any of these things happening to your car, it's time to schedule service with South Houston Nissan and talk to a service professional today:
Ticking noise coming from the engine
The engine won't turn over
The engine acts up between 2000 – 4000 RPM
The engine misfires
More smoke and fumes than normal
Oil leaks from the front of the motor
Serpentine Belt vs. Timing Belt: What's the Difference?
A serpentine belt is not the same as a timing belt. A serpentine belt powers the alternator, power steering pump, and air conditioning compressor, among other things, and is a critical component in your engine block. The timing belt helps the crankshaft and camshaft remain synced so your engine's valves open and close properly.
Service Pros Are Here at South Houston Nissan
When you need professional Nissan service, you can get everything you need at South Houston Nissan. Our friendly and knowledgeable staff will help you get the services you need to keep your Nissan running smoothly mile after mile in Houston. Contact us to learn more.
More From South Houston Nissan
Drivers from Pearland to Pasadena are gravitating toward the 2020 Nissan Versa due to the affordability and efficiency of the vehicle. So, just how fuel-efficient is this impressive sedan and how much will you save when fueling up around Deer Park? Our team here at South Houston Nissan will help explain the Nissan Versa MPG across the different…

The 2020 Nissan Pathfinder is one of the most capable family SUVs we offer at South Houston Nissan. So, how many seats does it offer and how can it enhance your Pearland drives? The 2020 Nissan Pathfinder seating capacity allows you to bring along up to seven adults, leaving plenty of room for your cargo as well….

Crossovers are great for getting around Pearland in style, and few can compare to the all-new 2021 Nissan Rogue in terms of standard features and overall look. However, an upgraded Nissan Rogue engine gives you 1,350 pounds of towing capacity, allowing you to haul small items to the campsite as you and your family go…