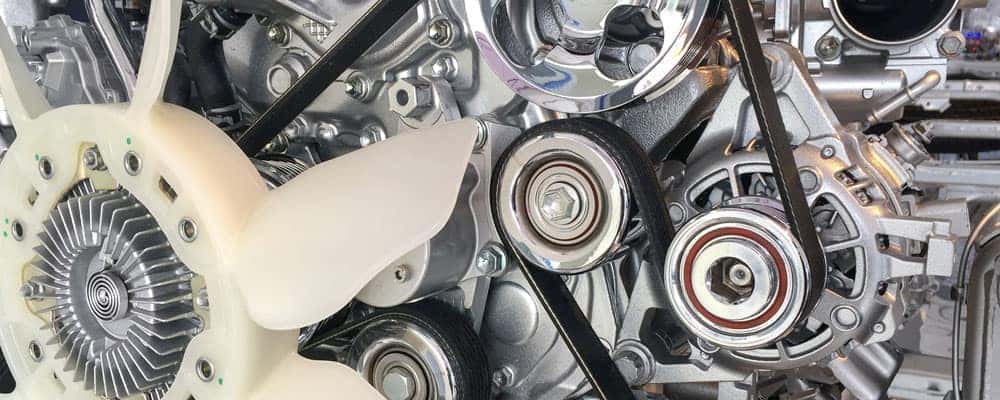 What is a Serpentine Belt?
A basic understanding of the mechanical elements of your vehicle can give you greater confidence and peace of mind as you drive throughout and Houston in your beloved Nissan! Perhaps you've recently become aware of a part called the serpentine belt. What is a serpentine belt? What does a serpentine belt do? To learn all about this essential component of your Nissan, read on below!
What is a Serpentine Belt and Where is It?
What is a serpentine belt? As the name implies, this part is a single, continuous belt that encompasses multiple dynamic parts of your vehicle, ultimately connecting these parts to the engine. To find your Nissan serpentine belt, you can pop the hood in your Pearland driveway and look for the belt that seems to "snake" around various parts, hence it's nomenclature.
What Does a Serpentine Belt Do?
As the mechanical elements of the serpentine belt turn around the crankshaft, tensioner, and pulleys, it powers a variety of vehicle parts. These may include your:
Alternator
Power steering pump
A/C compressor
Water pump
Radiator fan
And other elements.
Knowing the function of your Nissan serpentine belt can help you determine when there may be something up with it. For example, if you have low power, your A/C doesn't work, or you're having difficult steering, these could be signs of a worn or damaged Nissan serpentine belt.
Schedule Nissan Serpentine Belt Service
If you suspect your Nissan serpentine belt could be in need of replacement or at least an inspection, schedule your service appointment at our South Houston Nissan service center today. Our factory-trained technicians will conduct the maintenance, repair, or replacement necessary to fix your serpentine belt and get you back on Pasadena roads with quick and high-quality service.
Learn More at South Houston Nissan
Our South Houston Nissan team is committed to helping our Deer Park-area drivers like you become informed and confident Nissan owners. If you have more questions for us like what is a serpentine belt and how much does it cost to lift a truck contact us today. We are happy to answer any questions about your Nissan vehicle's performance, parts, technologies, and more. Next time you come in for service, be sure to browse our current service specials to make the most of your visit to the shop!
More From South Houston Nissan
Drivers from Pearland to Pasadena are gravitating toward the 2020 Nissan Versa due to the affordability and efficiency of the vehicle. So, just how fuel-efficient is this impressive sedan and how much will you save when fueling up around Deer Park? Our team here at South Houston Nissan will help explain the Nissan Versa MPG across the different…

The 2020 Nissan Pathfinder is one of the most capable family SUVs we offer at South Houston Nissan. So, how many seats does it offer and how can it enhance your Pearland drives? The 2020 Nissan Pathfinder seating capacity allows you to bring along up to seven adults, leaving plenty of room for your cargo as well….

Crossovers are great for getting around Pearland in style, and few can compare to the all-new 2021 Nissan Rogue in terms of standard features and overall look. However, an upgraded Nissan Rogue engine gives you 1,350 pounds of towing capacity, allowing you to haul small items to the campsite as you and your family go…