2020 Nissan Versa Gas Mileage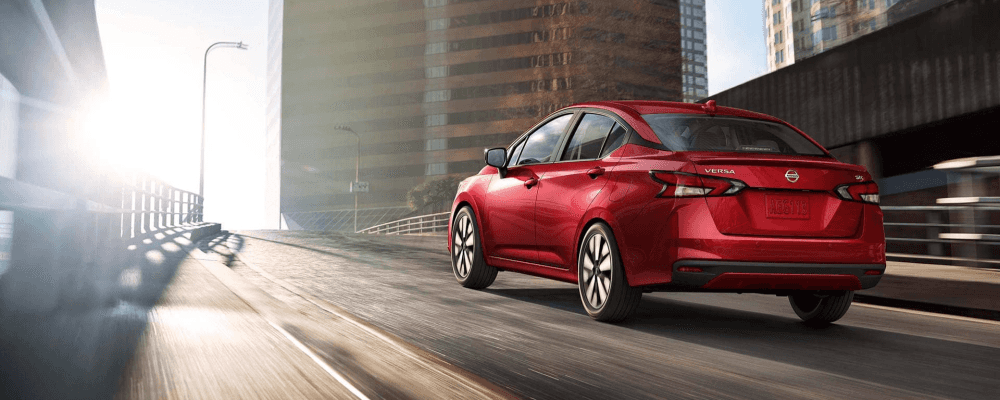 Drivers from Pearland to Pasadena are gravitating toward the 2020 Nissan Versa due to the affordability and efficiency of the vehicle. So, just how fuel-efficient is this impressive sedan and how much will you save when fueling up around Deer Park? Our team here at South Houston Nissan will help explain the Nissan Versa MPG across the different Nissan Versa configurations. See below to learn more!
Nissan Versa Gas Mileage by Trim Level
Available with a 5-speed manual transmission or an Xtronic CVT®, 2020 Nissan Versa configurations deliver similar mpg ratings across the lineup. Explore a quick breakdown of Nissan Versa MPG ratings by configuration below:
2020 Nissan Versa S w/ 5-Speed Manual: 27 mpg city/35 mpg highway*
2020 Nissan Versa S w/ Xtronic CVT®: 32 mpg city/40 mpg highway*
2020 Nissan Versa SV w/ Xtronic CVT®: 32 mpg city/40 mpg highway*
2020 Nissan Versa SR w/ Xtronic CVT®: 32 mpg city/40 mpg highway*
Nissan Versa Performance Features
So, just how does the new Nissan Versa achieve such impressive fuel economy? The 2020 Nissan Versa gas MPG ratings aren't simply the product of its engine. The 2020 Versa also offers a slew of features that help improve its efficiency. Read more about these features and the engine below:
Engine: The Versa comes equipped with a 1.6-liter DOHC 16-valve 4-cylinder engine that produces 122 hp and 114 lb-ft of torque. Developed by Nissan, the Continuous Variable Valve Timing Control System (CVVTCS) helps combine performance and fuel economy.
Transmission: Houston drivers can choose between two transmission choices: a 5-speed manual or an Xtronic CVT® (Continuously Variable Transmission). The CVT delivers even higher fuel economy, further cutting gas prices and making your commutes more efficient.
Drivetrain Options: The drivetrain available for the Nissan Versa is front-wheel drive.
Drag Coefficient: The S w/ Xtronic CVT®, SV, and SR models have a low drag coefficient of 0.288. A lower drag coefficient results in less fuel usage.
Learn More About the Nissan Versa Configurations from South Houston Nissan!
With so many great Nissan Versa configurations to choose from, plus great fuel economy, the 2020 Nissan Versa is a great choice for drivers from Houston to Deer Park. If you still have questions, contact us to learn more today!
More From South Houston Nissan
Drivers from Pearland to Pasadena are gravitating toward the 2020 Nissan Versa due to the affordability and efficiency of the vehicle. So, just how fuel-efficient is this impressive sedan and how much will you save when fueling up around Deer Park? Our team here at South Houston Nissan will help explain the Nissan Versa MPG across the different…

The 2020 Nissan Pathfinder is one of the most capable family SUVs we offer at South Houston Nissan. So, how many seats does it offer and how can it enhance your Pearland drives? The 2020 Nissan Pathfinder seating capacity allows you to bring along up to seven adults, leaving plenty of room for your cargo as well….

Crossovers are great for getting around Pearland in style, and few can compare to the all-new 2021 Nissan Rogue in terms of standard features and overall look. However, an upgraded Nissan Rogue engine gives you 1,350 pounds of towing capacity, allowing you to haul small items to the campsite as you and your family go…